Revolutionary 'People's Leasing Petrol Peraliya' Promotion Announces the First Month's 25 Winners
---
People's Leasing & Finance PLC, the leading non-bank finance company in Sri Lanka affiliated with the People's Bank, introduced 'People's Leasing Petrol Peraliya' – a revolutionary scheme launched in appreciation of its loyal customers. People's Leasing Petrol Peraliya is truly a unique scheme that is a first among banks and non-bank financial institutions in Sri Lanka.
Under this scheme, customers who obtained new leasing facilities or vehicle loans in a given month from People's Leasing & Finance PLC are eligible to win a fuel allowance of Rs.100,000 within a year. Twenty-five winners are chosen each month, amounting to 300 winners a year, corresponding to Rs. 2,500,000 worth of fuel allowances shared among winning customers each month. Under this novel scheme, no hidden costs are borne by the customer; furthermore, funds will accrue monthly interest. The first 25 winners of the promotion were announced on August 2020
The winners were from Akuressa, Balangoda, Aluthgama, Battaramulla, Digana, Diwulapitiya, Deniyaya, Galenbindunuwewa, Giriulla, Hatton, JaEla, Kilinochchi, Kodikamam, Kandy, Kurunegala, Kalawana, Kuliyapitiya, Kadawatha, Dehiwala, Mathugama, Matara, Nelliadi, Nugegoda, Polonnaruwa and Udugama.
Winners are chosen by means of purpose-designed software and process, monitored independently by a team of People's Leasing & Finance PLC's senior management.
People's Leasing Petrol Peraliya scheme will be operational through July 2020.
People's Leasing & Finance PLC's Deputy General Manager Marketing, Mr. Laksanda Gunawardene, speaking on the occasion of announcing the inaugural month's winners, noted that People's Leasing Petrol Peraliya is an exceptionally successful promotion.
"After launching the program, many existing and new customers of People's Leasing & Finance PLC obtained new vehicle loans and leasing facilities. When a customer obtains a new loan or leasing facility, he or she would be on marginal grounds to repay rentals on time with their new commitment, especially during the first year. Therefore, from the customer's perspective, the free fuel allowance that we offer is a great relief. In addition, as the monthly fuel allowance is deposited in a People's Leasing & Finance PLC savings account, it will generate interest too. This will be an added benefit to the customer" Mr. Gunawardena stated.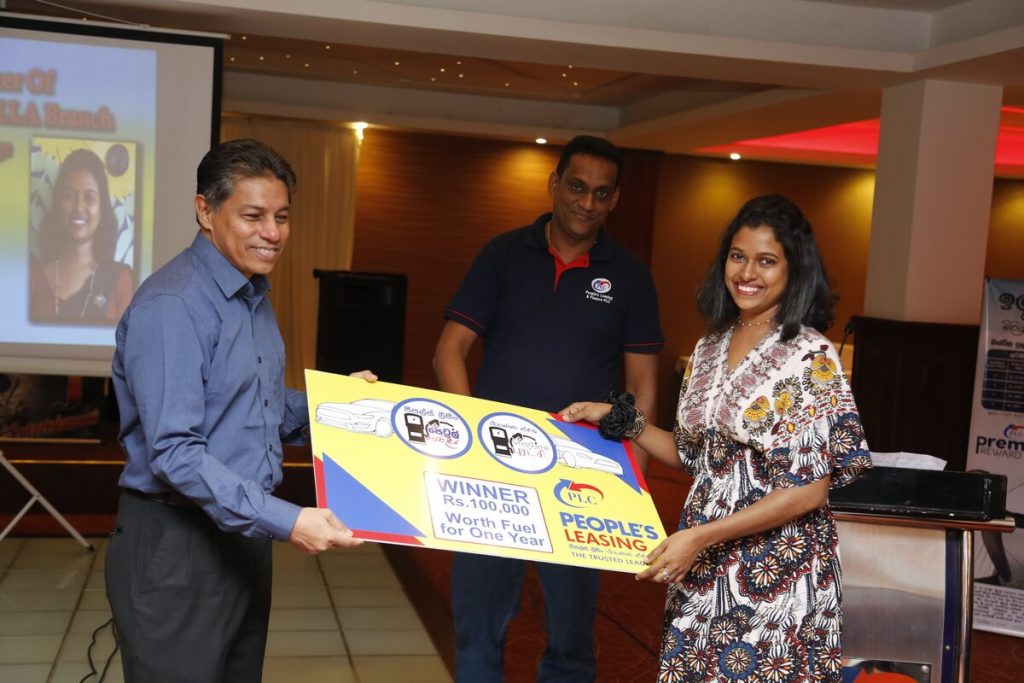 "We request people to enquire from any People's Leasing & Finance PLC branch anywhere in the island as to the benefits offered by 'People's Leasing Petrol Peraliya'" he added.
People's Leasing started its business operations in 1996 as a wholly owned subsidiary of one of the largest state banks in Sri Lanka, the People's Bank.
People's Leasing is the most rated non-bank financial institution in the country with three ratings: "B -" a rating one notch below Sovereign from Fitch Ratings International, and Company also possesses a local rating of "AA-(lka)" from Fitch Ratings Lanka Limited. People's Leasing is the number 01 non-bank financial services brand by Brand Finance PLC. The company was also recognized as one of the best corporate citizens of the country by the Ceylon Chamber of Commerce.
PLC's financial service product portfolio includes; leasing, auto loan, fixed deposits, saving accounts, housing and business loans, gold loans, margin trading, factoring and Islamic financial services.
People's Leasing conglomerate consists of six subsidiaries namely, People's Insurance PLC, People's Micro-Commerce Ltd, People's Leasing Property Development Ltd, People's Leasing Fleet Management Ltd., People's Leasing Havelock Properties Ltd and its latest foreign venture Lankan Alliance Finance Ltd.
The uniqueness of People's Leasing is its strength and the stability to provide diverse financial solutions under one roof to its customers, thus enabling the customers to obtain convenient and customer friendly services.