People's Leasing secures third place in Transparency International, Sri Lanka's first ever transpare
---
The number one non-bank finance company (NBFI) in Sri Lanka, People's Leasing a & Finance PLC secured the overall third position and the No. 01 position in the NBFI sector in the first-ever assessment of transparency in corporate reporting done in Sri Lanka amongst the top 50 listed companies on the Colombo Stock Exchange, as per market capitalization.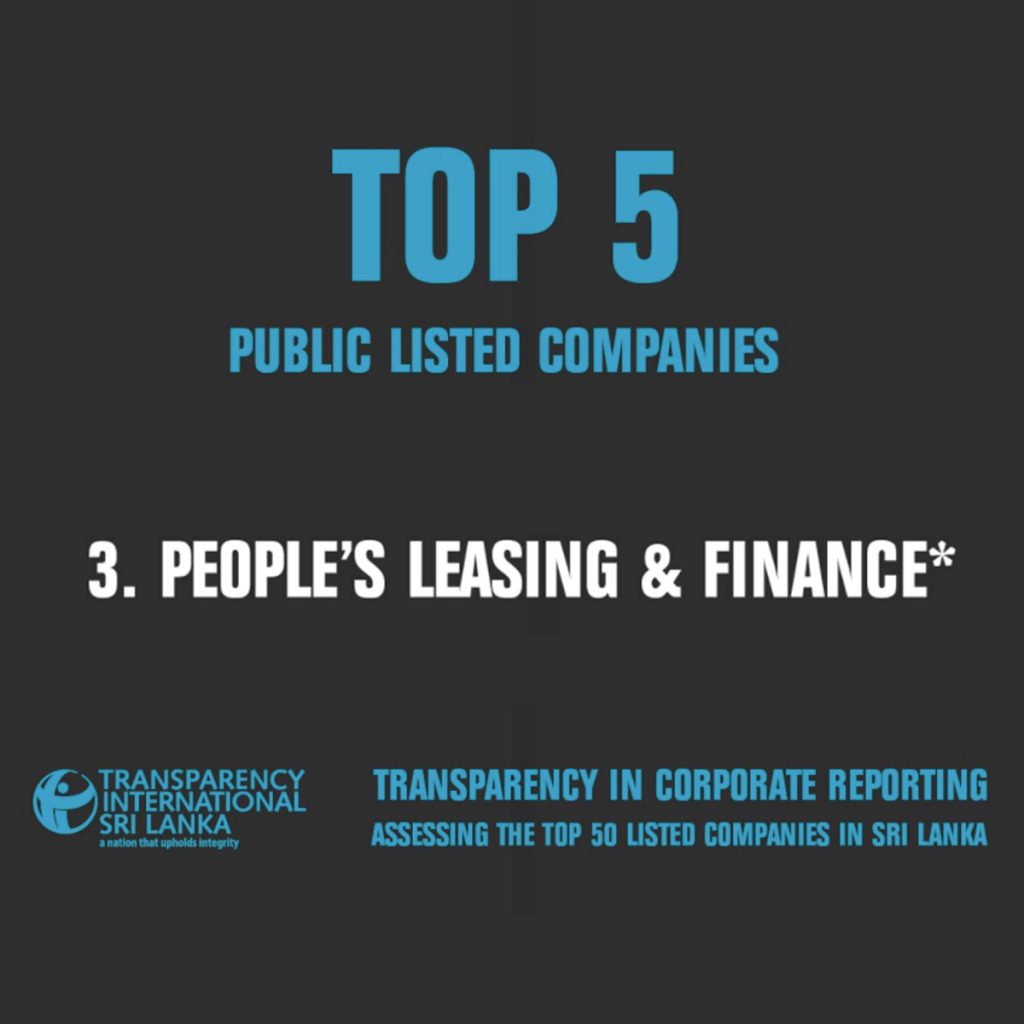 The report named as 'Transparency in Corporate Reporting (TRAC) assessing the top 50 listed companies in Sri Lanka was done by Transparency International Sri Lanka (TISL).
TRAC criterion and themes were threefold assessing the Top 50 listed companies in Sri Lanka, ranking companies on three different thematic areas related to corporate reporting: anti-corruption programs, transparency in company holdings and the disclosure of key financial information in domestic operations.
An elite team of TISL researchers have gathered information for reporting from the Annual Reports of the respective companies.
Mr. Sabri Ibrahim, CEO/GM, PLC expressing his views on PLC securing the third place in 'Transparency in Corporate Reporting (TRAC) said, "This will surely be an excellent news for PLC's stakeholders and customers. This first ever assessment of transparency in corporate reporting done in Sri Lanka by TISL has surfaced transparency of the information provided by the listed companies in our country. By securing the third position among 50 listed companies in corporate reporting highlighted the fact, how transparent PLC is in corporate reporting. TISL being the local agent of 'Transparency International' that fight against corruption world over adds credibility to its reporting".
Speaking on the launch of the report, Mr. Ashoka Obeyesekere, Executive Director, TISL said, "This report provides an opportunity to take stock of current disclosure practices, crediting the efforts that have already been taken and identifying areas for potential improvement for Sri Lankan listed companies. A low score does not mean there has been any wrongdoing. It indicates an opportunity for improvement in disclosure practices of such companies."
Transparency International operating in 90 countries has its headquarters in Berlin, Germany. Transparency International's local agents in Argentina, Belgium, Denmark, Greece, Hungary, Indonesia, Italy, Kuwait, Norway, Sweden and Vietnam too have conducted similar transparency reporting within these countries.
People's Leasing started its business operations in 1996 as a wholly owned subsidiary of one of the largest State banks in Sri Lanka, People's Bank. People's Leasing is currently positioned "A+(Ika)" rating from Fitch Ratings Lanka Ltd and the number one ranking non-banking financial services brand by Brand Finance PLC. The Company was also recognized as one of the ten best corporate citizens in the country by the Ceylon Chamber of Commerce. PLC was ranked in the 'Business Today Top 30' .
PLC's financial service product portfolio includes leasing, auto loans, fixed deposits, savings accounts, housing and business loans, gold loans, margin trading, factoring, and Islamic financial services.
People's Leasing Conglomerate consists of six subsidiaries – People's Insurance PLC, People's Micro-Commerce Ltd, People's Leasing Property Development Ltd, People's Leasing Fleet Management Ltd, People's Leasing Havelock Properties Ltd, and its latest foreign venture, Lankan Alliance Finance Ltd, in Bangladesh.
The unique features of People's Leasing are its strength and stability to provide diverse financial solutions under one roof, creating a seamless, convenient and friendly customer service experience.