People's Leasing in a bid to conserve 5500 sea-friendly plants from Mannar to Tangalle
---
People's Leasing & Finance PLC (PLC) affiliated to the People's Bank enjoys its position as one of the leading nonbank finance sector companies in Sri Lanka.
PLC constantly engages in CSR projects for the betterment of the society and environment.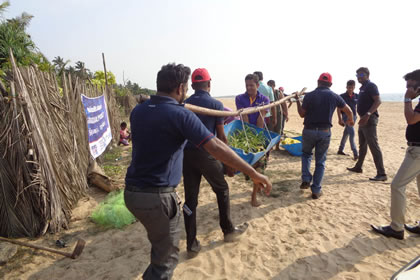 Recently PLC did a CSR to conserve the coastal belt of the country by planting 5500 sea-friendly plants in the coastal belt extending from Mannar to Tangalle.
The threefold objective of the project was to prevent debasing of the coastal belt, conserving bio-diversity surrounding the bay areas and to keep global warming at bay.
PLC joined hands with 'Bio Conservation Society' and 'Coastal Conservation Department' to conduct the CSR.
In the coastal belt extending from Mannar to Tangalle, 4500 'Wetakeiyya' plants and 1000 'Kadolana' plants were planted. These locations were (Erukkalampidi) Mannar, (Kandakuliya) Puttalam, (Kurukupane) Chilaw, (Dungalpitiya) Negombo, (Pothupitiya) Panadura, (Athuruwella) Aluthgama, (Ahungalla) Ambalangoda, (Mahamodara) Galle, (Midigama) Matara and (Kapuhenwila) Tangalle.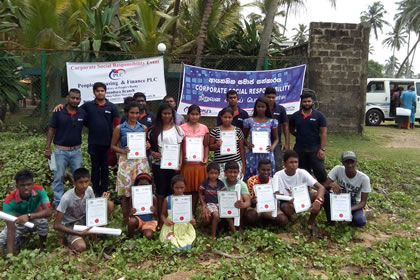 This effort was supported by PLC branch managers and staffs of Mannar, Puttalam, Chilaw, Negombo, Panadura, Aluthgama, Ambalangoda, Galle, Matara and Tangalle PLC branches.
In addition to the planting program the CSR also had a segment of conducting 10 workshops to create awareness among the population in the vicinities of the importance of coastal conserving, maintaining bio-diversity and conservation of Turtles.
All participants were presented with certificates as a gesture of gratitude.
Officials of Department of Wildlife Conservation, Sri Lanka Police and Sri Lanka Coastal Conservation Department along with school children of the vicinities, members of social groups, participated in the CSR.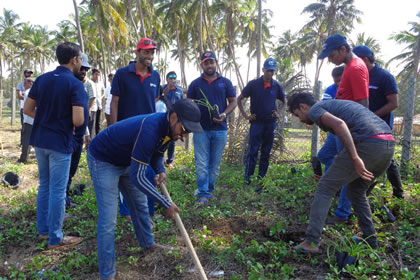 It was significant that social groups that participated in the project voluntarily undertaking monitoring of the vicinities that were rejuvenated with sea-friendly plants.
Mr. Sabry Ibrahim, CEO/GM, PLC's speaking of the CSR said, PLC as a socially responsible company in Sri Lanka is dedicated towards conserving the environment and enhancing status of citizens in the country.
"With the help of our strong branch network PLC constantly engages in various CSR projects throughout the country. This particular project that covered the vicinities from Mannar to Tangalle was a mammoth program. Bio Conservation Society's support towards this project is greatly appreciated. We will continue to do such programs also in the future", he said.
Bio Conservation Society is an active organization in Sri Lanka that endeavours in conserving sea turtles. The Chairman of the entity Dr. Lalith Ekanayake is an expert on conserving turtles. He delivers speeches on the subject here and abroad on a constant basis.
Dr. Lalith Ekanayake said, "We conducted this program as a CSR done by the PLC. We could see an increase of population of various fishes and prawns in Kodolana areas. Also Kadolana areas absorb carbon Dioxide three times more as against tropical forests. Thus the main objective of this project was to safeguard coastal areas and conserving coastal and bay areas in the country."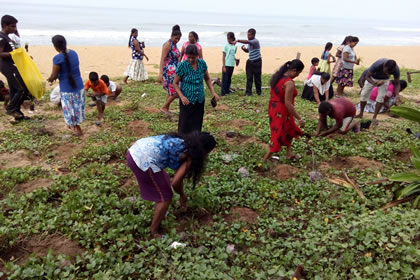 People's Leasing was commissioned in 1995 as a wholly owned subsidiary of one of the largest state banks in Sri Lanka, the People's Bank.
Fitch Rating Lanka has assigned PLC a credit rating of AA- (lka) which makes PLC the highest rated Finance company in the country. PLC is the only Sri Lankan Finance company to have two international ratings of which one is equal to the Sovereign from Standard & Poor's ('B+/B') and the other is one notch below the Sovereign from Fitch Rating International ('B').
PLC's financial service product portfolio includes; leasing, auto loan, fixed deposits, saving accounts, housing and business loans, gold loan, margin trading, factoring and Islamic financial services.
People's Leasing conglomerate consists of six subsidiaries namely, People's Insurance PLC, People's Micro-Commerce Ltd, People's Leasing Property Development Ltd, People's Leasing Fleet Management Ltd, People's Leasing Havelock Properties Ltd and its latest foreign venture Lankan Alliance Finance Limited.
The uniqueness of People's Leasing is its strength and the stability to provide diverse financial solutions under one roof to its customers, thus enabling the customers to obtain convenient and customer friendly services.