People's Leasing & Finance PLC Establishes Partnership with People's Bank to Enable Western Union International Money Transfers
---
Through a partnership with People's Bank, People's Leasing & Finance PLC (PLC) the trusted leader is now poised to provide Western Union international money transfer pay-out services. This collaboration not only expands the remittance services network of People's Leasing but also enhances accessibility for customers nationwide. With over 110 locations of People's Leasing & Finance PLC across Sri Lanka, customers can conveniently receive Western Union money transfers.
As a global leader in cross-border, cross-currency money movement and payments, Western Union operates a vast financial network spanning over 200 countries and territories, including Sri Lanka. With its longstanding presence in Sri Lanka, Western Union has successfully connected Sri Lankans living and working across the globe, facilitating secure and convenient money transfers.
Stemming from its vision of "to become legendary in the financial-service scene as a provider of customer-friendly, creative and innovative total solutions," PLC focuses on empowering the customer. As part of the collaboration, many offerings have been incorporated to ensure recipients enjoy Western Union's services at PLC. These include a dedicated software system (fully automated system) and a central remittance unit at the Head office, which will support smooth operations while performing tasks, addressing customer issues, complaints etc.
Shamindra Marceline, Director/CEO of PLC said, there has been a notable rise in Sri Lankans living and working abroad who actively support their families back home. He emphasized that when receiving money from overseas, customers seek convenience, speed, and reliability. PLC is pleased to fulfill these requirements through its collaboration with Western Union, extending their services not only to urban areas but also to rural regions. PLC has always prioritized customer aspirations and will continue to do so, striving to provide exceptional service. "I would like to express our sincere appreciation to People's Bank for their instrumental support in enabling us to operate as a subagent of People's Bank for offering the Western Union branded money transfer services and for their unwavering assistance throughout the implementation phase," he concluded.
PLC invites customers to visit any of the PLC branches to collect their remittances through Western Union on working days.
PLC is a leading Non-Bank Financial Institution in Sri Lanka and the flagship subsidiary of the People's Bank, which is one of the largest state-owned banks in the country. PLC commenced business operations in 1996 and was listed on the Colombo Stock Exchange in 2011. PLC has grown to become a diversified non-bank financial powerhouse with six subsidiaries in allied areas of specialization, including an overseas venture in Bangladesh.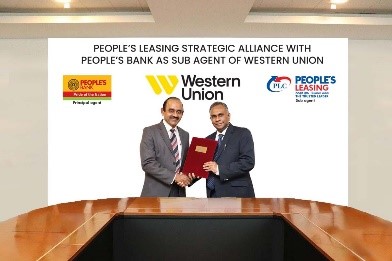 From right Pradeep Amirthanayagam- Chairman of PLC exchanging the Western Union agreement with Sujeewa Rajapakse –Chairman of People's Bank.