People's Leasing & Finance PLC Annual Report recognized with eight awards at the 2019 ARC Awards
---
People's Leasing & Finance PLC, one of the leading non-bank financial institutions in Sri Lanka bagged eight coveted awards for its 2018/19 annual report at the 33rd 'ARC Awards International – 2019'.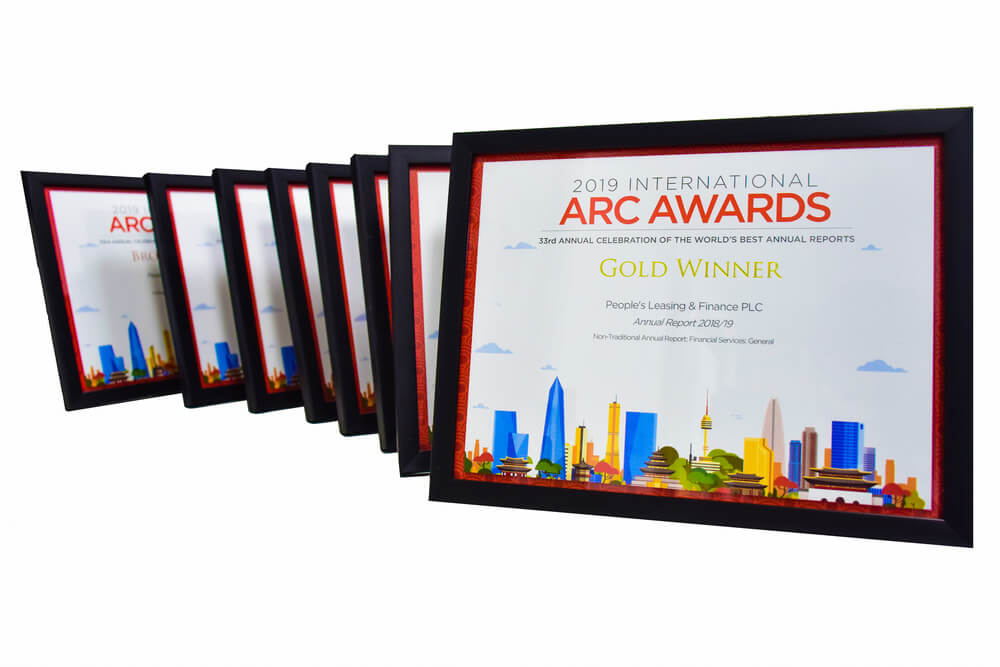 The ARC Awards International being one of the world's premier annual report competitions is considered the best evaluator of academic awards for Annual Reports. The competition was organized by MerComm, Inc. USA was held at SHILLA Hotel in Seoul, South Korea. Mr. Omal Sumanasiri, Chief Manager (Finance) who represented People's Leasing at the ARC Awards ceremony accepted the Awards conferred to the Company.
The eight category awards secured by People's Leasing 2018/19 Annual Report at the ARC Awards International 2019 in 'Financial Services – General sector' are; 'Financial Data' (Gold Award), 'Non-Traditional Annual Report' (Gold Award), 'Chairman's/President's Letter (Silver Award), 'Cover Photo/ Design' (Bronze Award), 'Interior Design' (Bronze Award), 'Written Text' (Bronze Award), 'Printing & Production' (Bronze Award) and 'Photography' (Honors).
Mr. Sabry Ibrahim, CEO/ GM, PLC's speaking on the recognition derived by the Company's 2018/19 annual report at the ARC Awards International 2019 said the latter is considered as the Academic Awards for Annual Reports and it is a great achievement for People's Leasing to secure eight awards for its annual report at this year is competition.
This year, the competition has received over 2,100 entries from 34 countries across the Globe. Several prestigious Sri Lankan corporates have also participated in this year's competition.
People's Leasing started its business operations in 1996 as a wholly owned subsidiary of one of the largest State banks in Sri Lanka, People's Bank.
People's Leasing is currently the highest rated non-bank financial institution in the country, with a 'B'-rating by Fitch Ratings International (just one notch below 'Sovereign'); AA-(Ika) rating from Fitch Ratings Lanka Ltd., and the number one ranking in non-banking financial services by Brand Finance PLC. The company was also recognized as one of the best corporate citizens in the country by the Ceylon Chamber of Commerce.
People's Leasing & Finance PLC's financial service product portfolio includes leasing, auto loans, fixed deposits, savings accounts, housing and business loans, gold loans, margin trading, factoring, and Islamic financial services.
People's Leasing Conglomerate consists of six subsidiaries – People's Insurance PLC, People's Micro-Commerce Ltd., People's Leasing Property Development Ltd., People's Leasing Fleet Management Ltd., People's Leasing Havelock Properties Ltd., and its latest foreign venture, Lankan Alliance Finance Ltd.
The unique features of People's Leasing are its strength and stability to provide diverse financial solutions under one roof, creating a seamless, convenient and friendly customer service experience.